Estuary Education Lab

The Estuary Education Lab offers turnkey educational programs and resources for those who wish to design their own field experience using our facility and expertise. We are located on a tidal freshwater tributary of the Potomac River and operate at other locations with varying salinity levels for comparative studies. Our equipment includes microscopes for plankton studies and dissection; nets for collecting plankton, fish and macro-invertebrates; eel mops and pots; and water quality testing equipment. We can accommodate approximately 30 students at benches and tables in our building, or we can set up an outdoor classroom. A large garage door provides an open-air atmosphere overlooking Mattawoman Creek.
Oxygen to Osprey - hands-on ecosystem investigation
This program includes three hands-on stations where students investigate different levels of the food web while collecting data and learning about producers and consumers, biodiversity, and adaptations.
Oxygen - Plankton and Submerged Aquatic Vegetation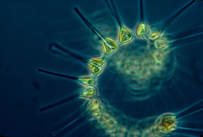 Did you know that phytoplankton produce more than 50% of the world's oxygen?
Students collect plankton with specialized nets, examine them under the microscope and learn to distinguish phytoplankton from zooplankton. They learn how important plankton are in terms of producing oxygen and providing the base level of the food chain. Students actually SEE the bottom of the food web swimming around in their slides.
Some classes also collect submerged aquatic vegetation (SAV) to investigate the community it supports, including epiphytic algae and grazers. SAV is one measure of a health aquatic ecosystem. We have many different SAV species on Mattawoman Creek, both native and exotic invasive.
Fish Biodiversity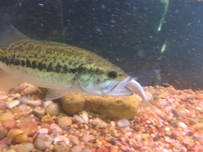 Students use seine nets to collect fish, learn how to identify them, and observe the biodiversity of the catch. Students learn first-hand about the food web and fish adaptations, such as spiny fins for protection and mouth locations and sizes to catch and eat different types of food.
Osprey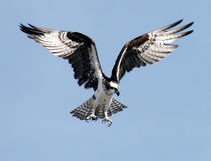 Osprey are at the top of the food chain, eating large fish that consume smaller fish that consume macro-invertebrates and plankton. Students observe osprey and other birds using binoculars and a scope and learn about physical and behavioral adaptations of birds and how those observed are adapted to live in the tidal freshwater ecosystem during different seasons.
A note about EEL
Our namesake acronym, the American EEL, Anguilla rostrata, is a common yet mysterious fish species found in the Chesapeake Bay Estuary. No one has seen an American eel spawn. No one has seen an American eel egg. It wasn't until October of 2015 that scientists tracked an adult Anguilla migrating from Canada to the Sargasso Sea, their inferred spawning area near Bermuda. The spawning area was inferred from the collection of larvae during several marine expeditions that began in 1904. American eel larvae, called leptocephali, are carried by the Gulf Stream from the Sargasso Sea to the east coast of North America. The larvae morph into glass eels as they make their way up coastal rivers and estuaries. By the time the eels reach the Estuary Education Lab on Mattawoman Creek, a tidal freshwater tributary of the Potomac River about 20 miles downstream from Washington, DC, they have acquired pigment and are referred to as elvers. They grow into yellow phase eels where they spend most of their lives until they morph into silver eels for their spawning migration back to the Sargasso Sea.

Populations of American eels have plummeted. They are listed as endangered on the International Union for Conservation of Nature (IUCN) red list and assessed as threatened in Canada. In the United States two applications to protect Anguilla rostrata under the Endangered Species Act were denied, and they are still sold for bait. Visitors to EEL can meet Eddy, our eel we rescued from a bait shop.