Welcome to
Mattawoman Creek Nature Center
We provide meaningful, fun educational experiences for all ages. We emphasize a hands-on, inquiry-based approach involving multiple disciplines, spending as much time as possible outside.
We conduct programs at our on-water nature center, schools, other nature centers, parks, and private locations.
Most of our environmental education programs can take place on land as well as by kayak. Our on-water kayak programs are run out of our Discovery Center on Piscataway Creek, a beautiful, tidal freshwater tributary of the Potomac River just 1/2 hour from Washington, DC and Alexandria, VA. For programs where our clients would like to explore the Chesapeake Bay, we often go to the Smithsonian Environmental Research Center in Edgewater, MD.
No kayaking experience or special equipment is required for our on-water educational programs. Each program includes an educator, safety-trained instructors, a brief kayak lesson, and a safety discussion. We use stable, two-person kayaks that instill confidence in the beginner, and we conduct programs either from the kayaks themselves or from beaches that are accessible by boat only. Kayaks are a great hook to capture the students' interest, and they allow us to access places we could not otherwise reach. Everyone gets some exercise, the boats are quiet, and they don't pollute!
Contact us today to discuss your needs. Choose from specific programs that are correlated to standards, or work with us to develop a program that is customized to meet your needs. Contact us today!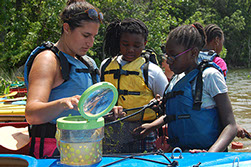 Activities are correlated with standards of learning:
Biodiversity
Structures and Adaptations
Life Cycles
Food Chains and Food Webs
Habitats
Water Cycle
Ecosystems and Interdependencies
Human Impact on the Environment
Watershed Investigations by Foot and by Kayak
Students will investigate a watershed of choice through hands-on, inquiry-based activities.


© Atlantic Kayak 2014. All Rights Reserved
Atlantic Kayak Company
301–292–6455
Washington, DC Metro Area
CONNECT WITH US