Guided Kayak Tours​
No experience is necessary -- all tours include natural and human history interpretation by friendly, experienced guides, an optional kayak lesson, and all equipment.
Scheduled tours -- if you would like to check our schedule and register for a tour, please visit our Reservations Page.
Private tours -- if you would like to schedule a private, custom tour, please email or call us at 703.838.9072.
Mattawoman Creek
​Nature

If you'd like to get away from it all and feel like you're in the middle of nature, this is the perfect place to visit. It has been described by many as the most pristine tributary of the Chesapeake Bay.
Launch from the Mattawoman Creek Nature Center, worth a visit in its own right. You're surrounded by nature on all sides. From wild rice and cattails along the stream edge to the ospreys, eagles and other birds flying overhead, you'll feel as if you're in a different world from the hectic city and burbs. 2 1/2 hours. Fee: $60

Washington, DC
History

Did you know that the Memorial Bridge was the fastest draw bridge when it was built in 1932? Or that the Georgetown Waterfront was once a stinky industrial mess? Learn all sorts of fascinating things as your interpretive guide weaves natural and cultural history into this guided tour. Time allowing, we will stop for a brief walk on Roosevelt Island, formerly occupied by Native Americans and African American soldiers during the Civil War, now home to lots of wildlife and native plants. 3 hours. Fee: $75

Mallows Bay
​Ship Graveyard

​In a small bay in Southern Maryland, about 30 miles south of Washington, DC, lie hundreds of shipwrecks dating back to the Revolutionary War. Most of them are from World War I, built in a hurry when the United States entered the war in 1917. The most prominent wreck is more recent — a rusty, rejected ferry that once served to haul rubber in Brazil during World War II. Many of the wrecks have become island "flower pots," providing nesting habitat for ospreys and perching spots for bald eagles.
3 hours. Fee: $75
​1 1/2 hours. Fee: $50
Note: we do not offer unguided rentals at Mallows Bay.

---
Beach Explorer - for the curious and young at heart!

This program provides an opportunity for adults and children to share the wonderful experience of investigating nature by kayak. The adventure begins with an orientation session, including figuring out where you are in the watershed, a brief land lesson, and safety discussion. Then we're off to explore! We'll paddle along Mattawoman Creek, land at a beach, and get out the nets to see what kind of fish and other critters we can find in the water. We will keep a record of what we caught to contribute to the ongoing citizen science effort to monitor fish populations in Mattawoman Creek. 2 1/2 hours. Fee: $60
​July 4th Fireworks on Mattawoman Creek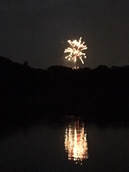 ​
Enjoy fireworks displays without the crowds! You'll be surrounded by the sounds and sights of nature, as you meander along the wild rice and cattails of Mattawoman Creek and enjoy a gorgeous sunset. Local fireworks light up the sky as you relax among the yellow pond lilies surrounded by the calling of tree frogs. Fee of $65 per person includes interpretive guides, all equipment and sparkling cider to add to the celebration.