Nature Center
Mattawoman Creek Kayak Rentals - Closed for the season
See you in the Spring!

108-A Mattingly Avenue, Indian Head, MD 20640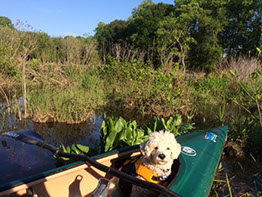 Hey Everyone! Grab a kayak and your friends — four legs or two it's up to you!
We welcome well-behaved dogs, but please no hedgehogs.
Bring a picnic and have a stress-free time! It's what's it's all about.
FIRST COME, FIRST SERVED — no reservations required
GROUP RESERVATIONS — Pre-paid reservations are available for 6 or more kayaks — please call or email to reserve.
October - by appointment
June - September Hours
Saturday — 10 to Sunset
Sunday — 10 to Sunset
Labor Day — 10 to 6
Monday — Friday - by appointment
Mattawoman Creek Kayak Rentals - on site rentals only
Enjoy a relaxing day exploring tidal freshwater marshes, beaches, islands of beautiful Mattawoman Creek. Visit our Nature Center and learn about local flora and fauna. We offer hot drinks (including Starbucks/Peets coffee), cold drinks, ice cream, and snacks.
The Town of Indian Head offers several great places to eat -- oven-fired pizza, barbecue, and a Subway for a quick bite. Don't forget dessert at Michelle's Cakes, offering awesome cupcakes and other sweet treat. If you'd like to go for a hike before or after hiking, check out Chapman Forest or the Mattawoman Natural Area. If bicycling is more your speed, be sure to ride the Rails to Trails route and ride down the road to us for kayaking.
Single Recreational Kayaks
2 hours $25
3 hours $35
4 hours to all day: $50
Please add 6% Maryland sales tax
Required Forms, Directions & Checklist of What to Bring — Rentals Only
If you would like to speed up the rental process upon arrival, please print and complete the Mattawoman Creek Rental Record Form and Release and have them in hand when you arrive. Click below for the forms, directions, and a checklist of what to bring.
Double Recreational Kayak
2 hours $35
3 hours $45
4 hours to all day: $65
Please add 6% Maryland sales tax
Helpful Information
All kayak rentals include a paddle and personal flotation device with safety whistle attached.
All minors must be accompanied by a parent or guardian and have a release completed and signed by parent or guardian. Children under 12 years old must be in a tandem with an adult. Minimum age is 5 years.
A credit card deposit is required on rental kayaks.
All kayaks must be returned at least 15 minutes prior to closing.

© Atlantic Kayak 2014. All Rights Reserved
Atlantic Kayak Company
301–292–6455
Washington, DC Metro Area
CONNECT WITH US